Clean energy transition from the expert in power conversion.
Air quality is vital for both occupational and environmental health. Port Authorities have an increasing need for sustainable practices and products to reduce emissions and carbon footprint. TMEIC's approach to environmental protection is simple; we combine 60 years of experience in port technology with our world-class expertise in power conversion to provide green solutions for our customers.
MaxShorePower is either a "Containerized" or "Centralized" state-of-the-art frequency conversion solution for delivering 50Hz and 60 Hz able to supply a clean and stable power flow to feed one or more vessels efficiently.
Trouble-free connection and operation for terminal and vessel personnel
Minimum footprint and cooling requirement for low-cost operation
Available in pre-built and tested containers, e-house configuration
Designed to comply with international, electrical network standards
Maintenance program for a long lifespan of selected components, >25 years
Optimizable operation load. Modular configuration with several frequency converters
On-shore power solutions for a greener port
At the heart of MaxShorePower is TMEIC's range of power electronics and expertise in system design for the port environment. In the port terminal environment, TMEIC leads the way in power converters to improve the efficiency and reliability of electric power supply systems using static frequency converters.
TMEIC MaxShorePower is built upon a family of utility scale static frequency converters that can be scaled to meet requirements from 1.0MVA up to 100MVA, with centralized or containerized solutions.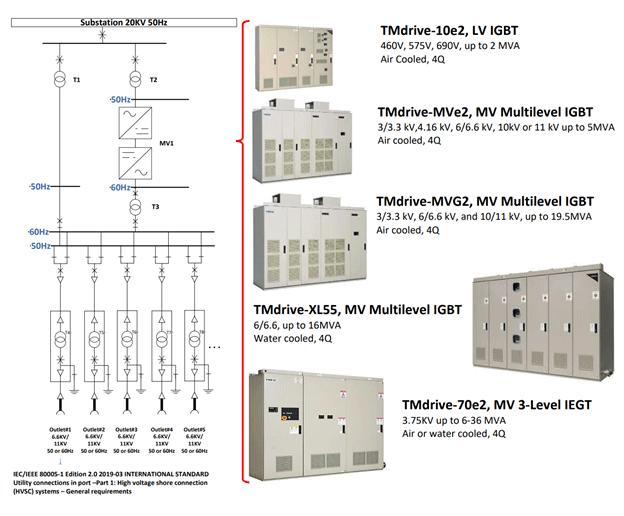 TMEIC has a long history of providing solutions that lift the bottom line and address the needs of our customers. We recognize our responsibility to the environment and meeting the needs of our customers is our top priority. The containerized MaxShorePower is a compact and walk-in, fully integrated, pre-engineered onshore power conversion system designed to maximize the return of investment with a marine industrialized solution that reduces installation time and complexity as well as transportation costs.
The solution is optimized for functionality featuring industrial-digital intelligence that improves solution performance and operating costs.