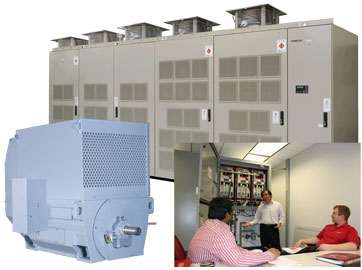 Medium voltage ASDs (MV Adjustable Speed Drives) and motors are widely applied to plant rotating machinery like compressors, pumps, fans, extruders, mills, kilns, etc., ranging from a few horsepower (HP) to tens of thousands of horsepower. Safe, reliable and successful application of these ASDs and motors require a system level approach.
The TMEIC Medium Voltage Systems School is an information-packed one-day series of practical sessions covering the selection, specification, and application of industrial MV equipment. Project engineers, equipment specifiers and technical stake holders will learn key application concepts for MV large motors, adjustable speed AC drives, and related MV power systems and distribution equipment that support the motor and drive installation. Instructors are TMEIC application engineers and industry experts with many years' experience in MV drives, motors and integrated system applications in various industries.
The focus for the course will be application topics that can be used right away to specify, evaluate, procure and install a successful MV motor and drive system. The dimensions of the course will be medium voltage (>2.3kV) and motor power ranging from 500 HP thru 100,000 HP. In addition to classroom presentations, attendees are encouraged to bring their own real-world application issues for group discussion. Five (5) Professional Development Hours [PDH] will be documented for those interested in applying their participation to maintaining their professional accreditation.
What you WILL NOT Receive
A commercial about TMEIC
Sales Pitches to sell TMEIC motor and ASD solutions
TMEIC Product Overview
Commissioning and Troubleshooting specific TMEIC products
What you WILL Receive
Technical content containing almost 200 slides
Relevant technical articles and papers
Tips, rules of thumb and shortcuts
Here's what previous attendees say about the school:
"General, non-product specific, knowledge, and cost benefit analysis for different options. The presenters had excellent knowledge of the subject matter."
"Overall a good understanding of motor selection, what to avoid, application, VFD selection and application."
"Both the motor section and VFD section were very instructive.  Great class!"
"It was technical and not sales oriented.  Very high density application information with real life examples.  Great training!"