Solutions Enabling Carbon Neutrality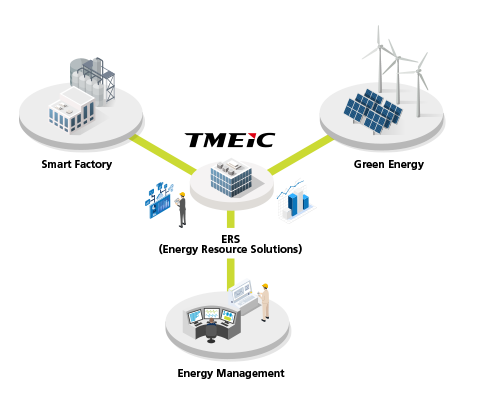 Over the years, TMEIC has contributed to the development of the renewable energy sector and other industries by providing products and services that both reduce environmental burden and achieve sustainable growth, including state-of-the-art power electronics equipment, rotating machinery and automation systems.
TMEIC is committed to helping our customers realize carbon neutrality through various means such as power electronics systems that play an active role in the production, storage, transportation and use of energy; motor drive systems that convert electric energy into motive power; and energy and resource solutions that realize energy conservation, optimal operation and stabilization of manufacturing processes and utilities.
---
ERS (Energy Resource Solutions)
TMEIC's energy solutions ensure the optimal management of green energy production and the use of this power in smart factories.

TMEIC provides diverse solutions to realize carbon neutrality. 
– Contributing to society with exceptional technology and partnering with our customers –

2030
Hydrogen, which is a key for clean technologies, will be put into practical use.
Contribute to resilient and competitive production equipment.
Offshore wind power will shift from a demonstration phase to an actual operation.


2050
Contribute to the realization of a sustainable and zero-carbon society by realizing a baseload for green energy and mobility (EV/automated driving).