TMEIC applies broad field experience to supply total system integration.
TMEIC offers total system integration for coke oven machinery. These Factory Automation (FA) systems have drive technology, sensing technology, electrical control technology, and field experience based on many mill successes. 

TMEIC supplies the customer with total manufacturing management, applies that knowledge to coke oven control systems, and develops the systems incorporating new Information Technology.
Incremental installation of FA functions for upgrades and revamps.
Plant life-extension is important because new coke oven plant construction requires an enormous investment. When revamping the existing equipment machine by machine, TMEIC can supply the FA system according to the automatic control level and personnel distribution or the role of each operation. 
System composition/ personnel distribution of each FA revamping step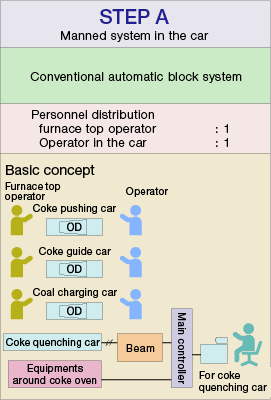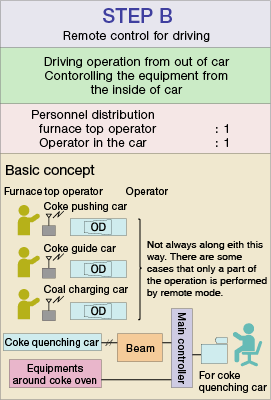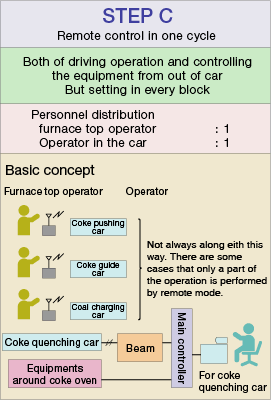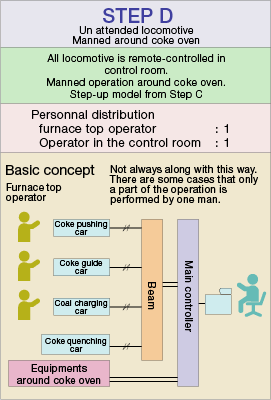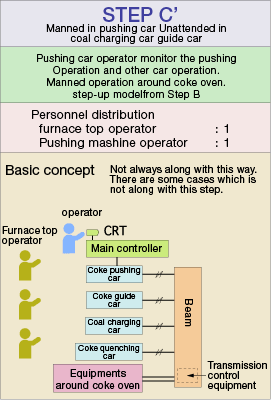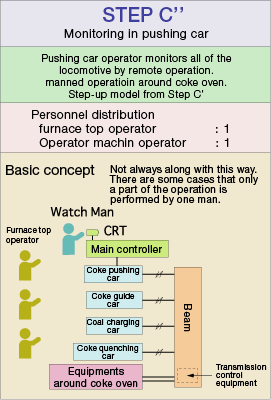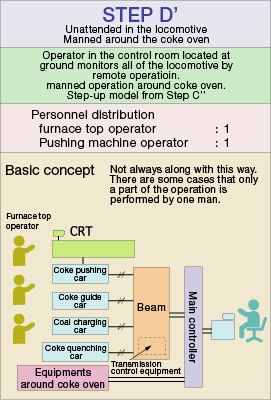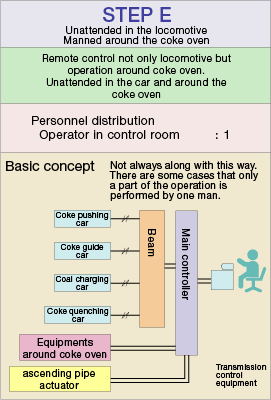 Complete system integration to provide for autonomous operation.
The TMEIC HMI system has many graphic CRT functions, and a dialogue system which allows the operator access to meaningful information anytime. 

Traditionally, a skilled worker controlled the operation by monitoring the locomotive, the coordination between locomotives, and other equipment. 
Applying the HMI system simplifies and improves, the efficiency and management of the operation. The operator can also be released from work in an adverse environment.
Integrated remote monitoring system for safe coke oven operation.
Safe Coke Pushing System
Coke pushing using the pushing machine ram is one of the most dangerous operations in the coke oven plant. To safely perform unattended operation, the total safe system should include detecting the slope of the ram head, and obtaining the accurate position of each locomotive. 
The TMEIC system has an ITV-based monitoring system, with parabolic antennae located on the car and the ground.
A bright color screen helps the operator.
TMEIC supplies the locomotive that improves continuous operation.
Hierarchal Control and Error Recovery Control
The main control sorts out the levels of operation and performs the retry-control to complete the movement. For auxiliary functions, the PLC bypasses the problem movement with skip control so that full automatic control and continuous operation can be improved.