TMEIC Receives the Company of the Year Award in the Global Power Electronics for Carbon Neutrality Industry from Frost and Sullivan
Toshiba Mitsubishi Electric Industrial Systems Corporation (hereinafter, "TMEIC"; President & CEO Masahiko Yamawaki) received the Company of the Year Award in the Global Power Electronics for Carbon Neutrality industry in February 2022 from the global research and consulting firm Frost & Sullivan based in California, in the United States.
Frost & Sullivan bestows Best Practices Awards annually to companies that have achieved outstanding performance in respective industries based on a rigorous analytical process. TMEIC has won the most prestigious Company of the Year Award respectively in the Industrial Power Electronics and the PV Inverter industries in the past. This marks the first time for TMEIC to receive the award in the Global Power Electronics for Carbon Neutrality industry.
TMEIC was given the award in recognition of its initiatives aimed at the creation of new solutions through the launch of the Energy Resource Solutions Project (ERS PJ) to bring together experienced members in various industrial fields within the Company, as well as its provision of products and solutions that meet specific needs toward realizing decarbonization based on the Power Electronics in Everything (PEiE) concept.
Comments by Executive Officer and Vice President Masayuki Tobita, Power Electronics Systems Division:
"I am pleased that our efforts toward the realization of a carbon neutral society based on our PEiE concept were highly regarded. TMEIC offers power electronic products including PV inverters for solar power generation, Energy Storage Systems (ESS), rectifiers for hydrogen production, motor drives and Uninterruptible Power Supply (UPS) systems, as well as engineering and services. Going forward, we will continue to provide solutions toward a carbon neutral society while also contributing to the achievement of the SDGs* through our business activities."
* SDGs: Sustainable Development Goals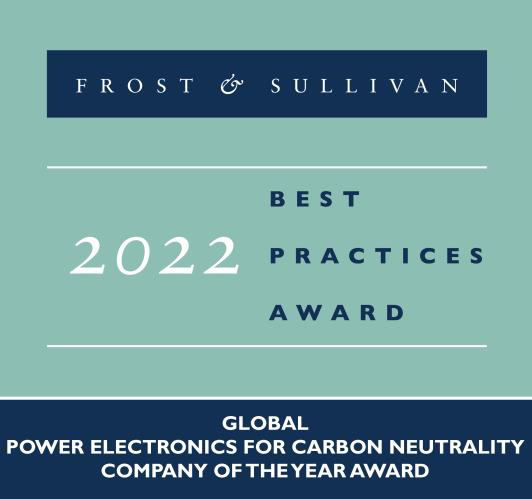 About Frost & Sullivan
Frost & Sullivan Best Practices awards recognize companies in a variety of regional and global markets for demonstrating outstanding achievement and superior performance in leadership, technological innovation, customer service, and strategic product development. Industry analysts compare market participants and measure performance through in depth interviews, analysis, and extensive secondary research to identify best practices in the industry.
Frost & Sullivan website: https://www.frost.com
Frost & Sullivan Japan K.K. website: https://www.frost.co.jp/