TMEIC Receives the Company of the Year Award in the Industrial Power Electronics
– Global Category from Frost & Sullivan
Toshiba Mitsubishi-Electric Industrial Systems Corporation (hereinafter, "TMEIC"; President & CEO Akira Kawaguchi) received the Company of the Year Award in the Industrial Power Electronics – Global category in August 2023 from the global research and consulting firm Frost & Sullivan based in California, in the United States.
Frost & Sullivan bestows Best Practices Awards annually to companies that have achieved outstanding performance in respective industries based on a rigorous analytical process. TMEIC has won the most prestigious Company of the Year Award. This marks the seventh time for TMEIC to receive the award with the first occasion in 2015.
TMEIC received this award for its outstanding efforts in consolidating expertise across various company divisions, spanning diverse industrial sectors, primarily through the Energy Resource Solutions Project (ERS-PJ). These efforts have allowed TMEIC to stay current with market trends, including the move towards carbon neutrality and to introduce advanced products such as self commutated rectifier for hydrogen production promptly. TMEIC was also recognized for its initiatives in the renewable energy sector, which has been a focal point, having shipped a cumulative total of 45GW of photovoltaic inverters, thereby delivering value to customers as a market leader in the power electronics field.
Comments by Executive Officer and Vice President Masayuki Tobita, Power Electronics Systems Division:
"We are delighted that TMEIC's commitment to the field of power electronics has been highly recognized. TMEIC has been accelerating its efforts to provide new solutions for achieving a carbon-neutral society, including the shipment and delivery of the first self-commutated rectifier for hydrogen production last fiscal year. We aim to continue contributing to the achievement of the Sustainable Development Goals (SDGs) through the provision of power electronics products, engineering, and services, as well as our corporate activities."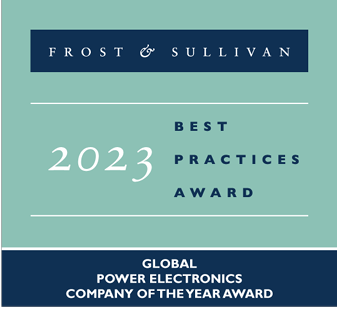 About Frost & Sullivan
Frost & Sullivan is a knowledge partner for businesses that provides global insights based on its unique research, supporting companies in guiding their businesses toward growth. It combines both research and consulting functions to assist in creating new growth opportunities for businesses and achieving innovation. Frost & Sullivan's services, specializing in supporting business growth in new fields, leverage a global network of over 40 locations worldwide. It covers over 300 major markets in 80 countries, providing insights based on a 360-degree perspective, which forms the foundation for companies to succeed on the global stage.
   Frost & Sullivan website: https://www.frost.com/
   Frost & Sullivan Japan K.K. website: https://www.frost.co.jp/