TMEIC has over 30 years of production and R&D experience in PV market.
Cloud Edge
Cloud edge effect is a common phenomenon in PV power generation. This effect is caused by sudden increase in irradiance due to reflection of the passing cloud focusing more sunlight to the array. Inverters respond to this phenomenon with current limitation causing DC voltage to rise.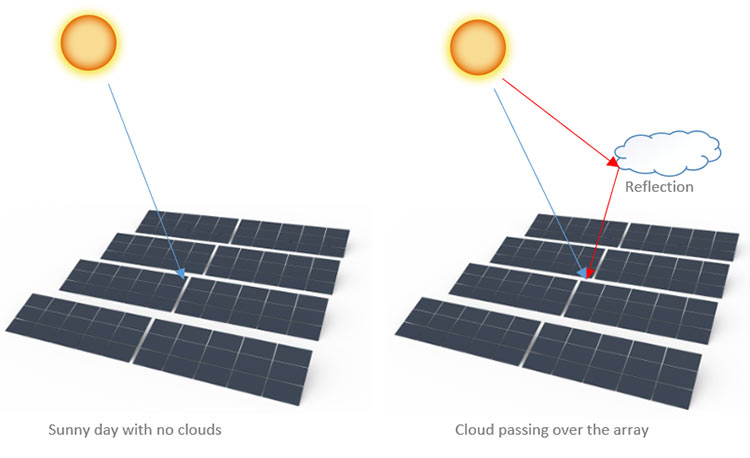 Environmental Protection
At TMEIC, the newly developed products are tested for reliability under variety of extreme conditions to ensure long term reliability of the PV inverters.
Water Protection
TMEIC's outdoor rated PV inverters go through stringent water tightness testing to ensure long term performance in various rain and storm conditions. Tests are witnessed by NRTL and performed per UL-1741 standard.
Extreme Temperature
Whether the plant is installed in the Southwest desert of the USA or flat lands of Hokkaido, Japan, these locations are subject to extreme hot and cold temperature variations. TMEIC follows IEC-62093 standard and inverters are subjected to -25 to 75C temperature cycle pushing the limit. 

Marine Protection
Having a history of experience in island environmental conditions in Japan, TMEIC has developed the most robust system for marine environments. TMEIC performs salt-spray tests to individual components to carefully select the best compatible components to be used in a marine environment.
Dust and Sand Protection
Many of the PV plants around the world are installed in a harsh desert environment requiring robust protection against fine sand and dust. TMEIC has developed unique cooling system called, "Advanced Hybrid Cooling System" which enables minimum penetration of dust and sand into the inverter cabinet. TMEIC's robust design is tested and verified with blown dust to validate long term reliability in an extreme environment. 
TMEIC outdoor rated PV inverter products are tested to IEC60068 and MIL-STD-810G with direct powder fine dust at wind speed of 15m/s. The test result is verified for long term performance in a desert condition where fine dust and fast wind is present.