TMEIC's Waste Heat Recovery (WHR) system is an Organic Rankine Cycle (ORC)-based electrical generator powered by hot exhaust gas from a large industrial combustion process. The installation generates power from the waste heat, saving money, and may qualify for government monetary awards for clean energy.
Applications 
The WHR system recovers heat energy lost through the exhaust stack from industrial combustion installations such as:
Steel reheat furnaces
Cement kilns
Gas turbine and diesel generators
Glass furnaces
The diagram below shows how furnace waste heat is captured and converted to electric power in a turbine generator. There are two closed loops, a hot liquid loop transferring heat, and an organic loop feeding the turbine (expander).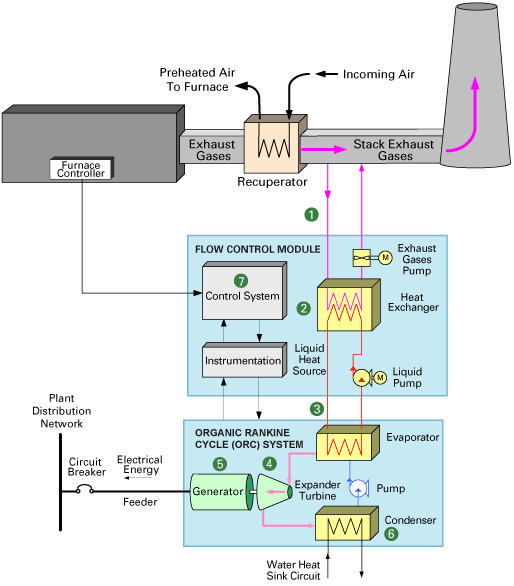 System Operation
The process to capture the waste heat and generate electrical power are illustrated in the system diagram shown above. Briefly, the steps are:
Hot exhaust gases are passed through the heat exchanger.
In the exchanger, heat is transferred from the hot exhaust gases to a liquid such as pressurized water/glycol or thermal oil.
This hot liquid is pumped to the heat recovery evaporator in the Organic Rankine Cycle (ORC) system.
The refrigerant is boiled in the ORC evaporator and fed to an expander turbine, which drives the electrical generator.
The turbine generator generates electrical power, which is fed to the plant distribution network.
The exhaust refrigerant is condensed, using plant water as a heat sink and pumped back to the evaporator to repeat the cycle.
The master controller monitors system variables such as flow, pressure, temperature, and electrical power and controls the variable speed pumps for optimum thermal performance.
Power Levels and Savings
Waste Heat Recovery systems come in a wide range of sizes and power levels starting from 250 kW to several megawatts. For example, a typical steel reheat furnace with 320 metric tons per hour capacity would provide up to 2.25 MW (or 18,000,000 kWh per year) recoverable energy. The energy savings, at $0.10 per kWh electric cost, amount to $1,800,000 per year.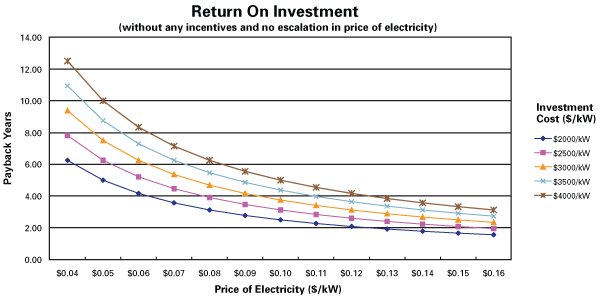 Please contact us for more information:
USA telephone: 1-540-283-2100
email: Contact Us