A Cold Mill rolls coils of pickled steel from the pickle line at ambient temperature, using coolant oil. The cold mill produces steel and stainless steel and is also used for aluminum, aluminum foil, and copper. There are several types of mills such as 2-High, 4-High, 6-High, 12-High, 20-High, and Sendzimir Mills that have a variety of types of flatness control operations. 

TMEIC provides electronic equipment for cold mills such as the power-supply system, drive systems, automation, and process technology, all based on extensive mill experience. 

TMEIC provides equipment including the Mash Seam Welder (MSW), the Flash Butt Welder (NMW), and a Laser Beam Welder (LBW). These welders support high productivity for a continuous line. 
Cold Mill Line Scheme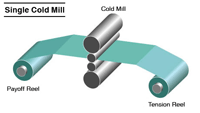 Main Functions of the Cold Mill
Crown, Flatness and Edge Drop Control 
Crown, Flatness, and Edge Drop Control use feedback measurements from the flatness sensor and edge sensor to determine and make corrections to the delivery stand which maintains strip flatness and quality. 
Automatic Gauge Control (AGC)
Automatic Gage Control utilizes feedback from one or more gauge and speed sensors to precisely control strip thickness using stand roll forces and speeds. General control types are Feed forward AGC, Feedback AGC and Mass Flow Control.
Roll Eccentricity Compensation Control (ECC)
Eccentricity Compensation Control reduces the effect of backup roll irregularities. ECC uses pattern recognition techniques to change the gap position to compensate for roll eccentricities.
Tension Control
Tension control optimizes the strip tension between the stands, pay off reels and tension reels to produce quality product. 
Flying Gauge Change (FGC) 
Flying Gauge Change performs the control actions required to smoothly transition from one strip thickness to another. Normally these product guage changes will be done at a weld or a cut point between the coils of two orders. 
Cold Mill Setup (CSU) 
Cold Mill Setup calculates process regulator references and gains for rolling a specific product. Process references are optimized to provide power, force and tension distributions between the stands to produce a quality product. These references include speeds, tensions, forces and thickness settings. Gains include those for the guage and tension control systems.
Features of revamping automation for a Tandem Cold Mill
When deciding on modernizing an existing Tandem Cold Mill to a continuous line, consider the following benefits: reducing the coil handling time, boosting yield, and reducing energy consumption.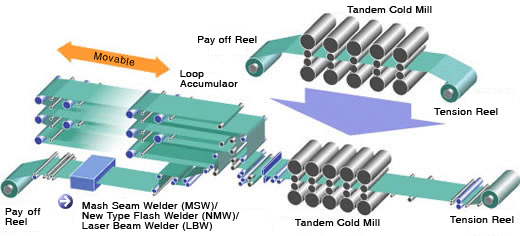 Features of revamping automation for an Aluminum Foil Mill
Historically, Tension reels and Pay off reels were powered by DC motors through a gear box. Current technology allows replacement of the DC motor with an AC motor without a gear box, obtaining a high quality product and high productivity. 
The benefits of installing the AC motor are as follows:
It increases the drive-train stiffness and decreases mechanical friction.
The AC motor requires less maintenance than a DC motor since there is no commutator.
The AC motor achieves lower inertia than a DC motor.
The speed control response is improved.
A common converter scheme is applied to the drive configuration used on tension reels, pay off reels, and mill stands.